Full Service Tooling & Injection Molding Solutions
Pleasant Precision is a full service manufacturer that can provide engineering solutions from product design through finished molded product. The unique combination of injection molding and tool making coupled with our Round Mate System creates an opportunity for you to save money, reduce lead times and receive high quality molded products.
Click Here to Learn More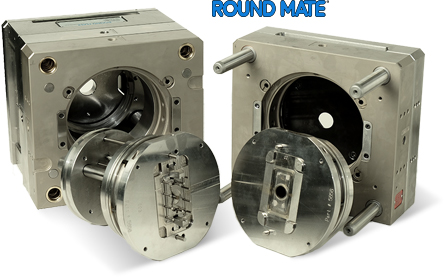 Founded in 1978, Pleasant Precision is Focused on building high quality, tight tolerance tooling for multiple industries. PPI has built a strong reputation for building high precision injection molds and strives to develop trust-based partnerships with our customers.
Pleasant Precision is a premier injection molding facility. Our team utilizes electric injection molding machines, a class 100,000 cleanroom, IATF 16949: 2016 Certified QMS, and highly skilled team members to meet market needs. Our presses range from 55 to 400 tons.

The Round Mate System is an Interchangeable Insert Molding System that gives Pleasant Precision a competitive advantage over other tool makers and injection molders. Round Mate tools offers decreased lead times, reduced tooling cost and 10-Minute Mold Changes.

Within our Class 100,000 cleanroom, our team specializes in the manufacture of tight tolerance medical tubing for the medical and automotive industries. PPI's facility features a state-of-the-art extrusion line, equipped with the latest of dies, closed-loop process controls, and in-line ultrasonic measurement.
Round Mate® – Interchangeable Insert Molding System
Savings are realized by using the modular design of Round Mate® to decrease lead times & tooling cost and increase efficiency through 10-minute mold changes.
WATCH A VIDEO
What are the lean manufacturing advantages of Round Mate®?
Injection Molding – Quality, Cost & Delivery are a given
With electric molding machines, automation and a class 100,000 cleanroom coupled with IATF 16949: 2016 Certified QMS, Pleasant Precision stands out as a high-quality injection molding facility.
LEARN MORE